Looking to add some Wiccan flavor to your home?

The thing is, home decors from other shops just don't cut it. Either the design is boring or the quality isn't that good.

But here at The Moonlight Shop - your one-stop Wiccan store - we will meet all your home needs...

...and the What's Up My Witches Mailbox Cover is the absolute perfect addition to your home.
Since the mailbox is one of the first things people see when they come to your home, it's important that it immediately grabs some attention (and a lot of compliments). 

This has all the elements you need in a mailbox cover - it's warm, it's funny, and the design is simple yet it works. It truly gives you that Wiccan twist that you want for your home.
So if this pretty item is the first thing people see, then they surely will wanna see the rest of your lovely home, and get to know more about the awesome person behind it!
Product Specifics
All of our Mailbox Covers are custom-made-to-order and handcrafted to the highest quality standards.
Add style and personality to your mailbox with a custom printed mailbox cover!
Constructed from a durable and long lasting vinyl that is flexible, UV resistant and fade-proof.
Features a cut-out notch for your mailbox flag.
Easy to install – simply place over your metal mailbox and the magnets will hold the cover in place.
Pick the right size for your mailbox:

Large Size fits standard US mailboxes measuring 21 inch arc length x 18 inch depth.
X-Large fits US mailboxes measuring 25.5 inch arc length x 21 inch depth.

To find the right size for your mailbox measure the arc length and the front-to-back depth of your mailbox and pick the corresponding size that matches your mailbox. Please reference the size chart diagram for more information.
Cover can be custom tailored with scissors if your find that your mailbox cover does not perfectly fit your mailbox at home.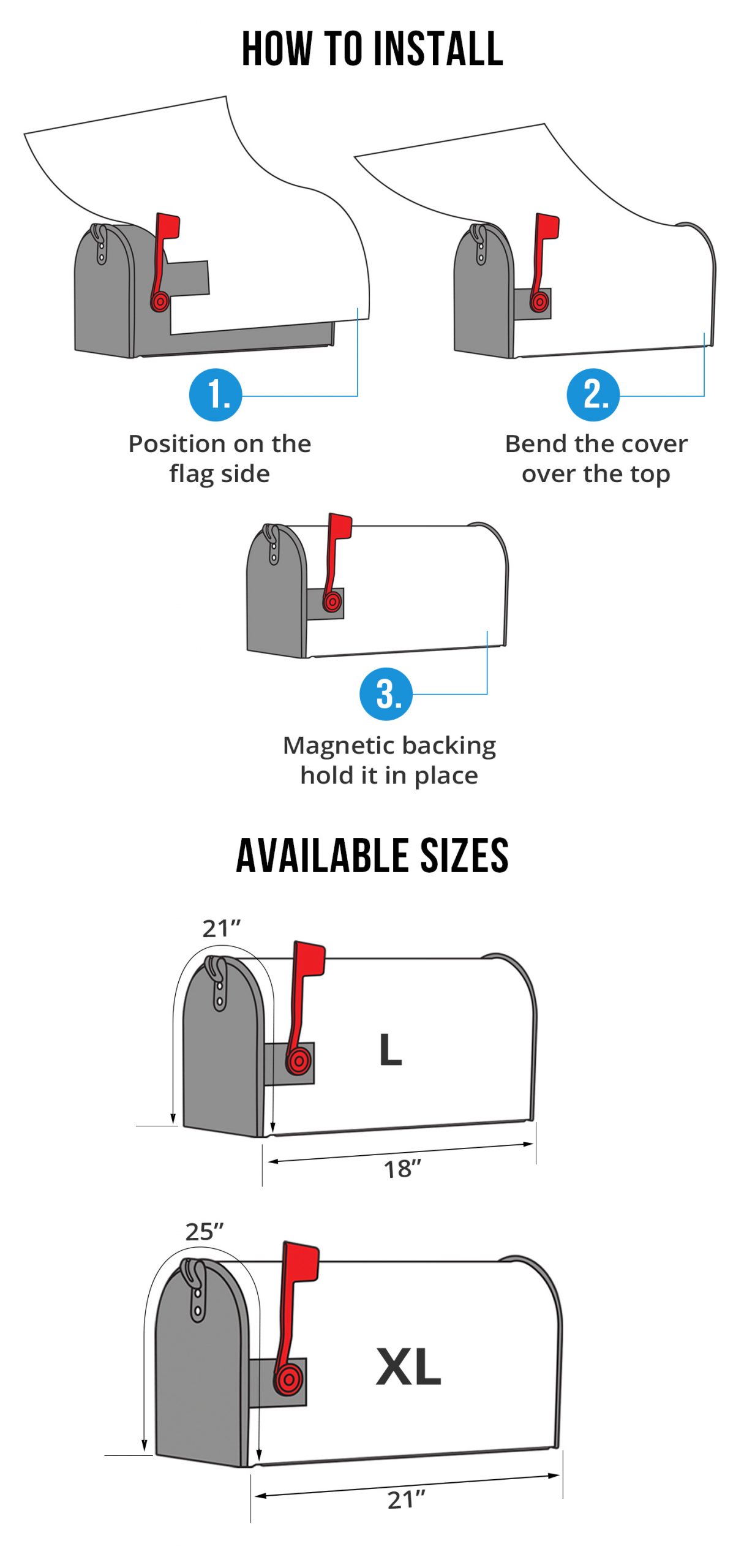 ** Please note that this product is handmade when ordered overseas and delivery time is a little longer than usual.
Because it's handmade for you, these require 10-15 business days before they are shipped. Orders placed before midnight will be included in the following day's batch for manufacturing.
The shipping rate is calculated based on the weight of your order and starts at just $1.95. (International orders starts at just $9.95)
For orders over $65, you get free shipping. (U.S. orders only)
Domestic orders are delivered within 2-4 weeks (depending on where you live) and international orders are delivered within 3-5 weeks.
How long till I get my order?
Most orders are shipped within 24 hours (unless stated otherwise on the product page). Please refer to the "Shipping and Delivery" tab for delivery times as these vary by product.
Once your order is shipped, we'll send you a tracking number via email so you can follow your order.
What if I want a refund?
We hope you don't, but we don't make it hard to get your money back, if you are not 100% happy. 
Please refer to our FAQs section.
What if I have other questions?
Just send an email to info@themoonlightshop.com. We have a fully staffed support team ready to help you out.